GALLERI F15
28 MAY–5 OCTOBER 2022

HABITAT

Click on the artist names or scroll down for biographies and artwork info.
The exhibition can be visited within Galleri F15's opening hours, Tuesday – Sunday, 11 a.m. – 5 p.m. A map of the exhibition and other exhibition info material can be retrieved at the front desk. Parallel to the exhibition Katie Paterson's exhibition Evergreen is exhibited in Galleri F15.
GALLERI F15
Tuesday–Sunday 11.00–17.00
Albyalléen 80, 1519 Moss, Norway
+47 89 27 10 33
GALLERi F15 website
Facebook event for the vernissage
Photo: Sarah Sekles –
Animal Conference
, 2022.
---
From the autumn of 2021, the Master's Program Art and Public Space at KHIO has had Jeløya and the area in and around Gallery F15 as a research area. The result has been an extensive outdoor exhibition entitled HABITAT which shows 6 monumental art projects, of which 5 are installed outdoors. The exhibition is complex in its entirety, and surprisingly contextualises what life is, and how life transforms the environment in a local, historical and international perspective. In the space between what has been and what is to become, concepts such as survival strategies, pain relief, communication and care are central to the works. The art also reflects perspectives on the interplay between stories about people and nature that have taken place in the area. Underlying tones in the projects are political and revolve around democracy, preservation, respect and coexistence. At the exhibition you will be able to experience an animal conference, land acupuncture, pink clouds, a healing blanket, a flag manifesto and a birth clinic for butterflies.

Siri Hermansen
August, 2022
---
Opening Speech HABITAT
Dag Aak Sveinar
How do you feel and think about space and place? This place takes you back in time to the 18th century, before modernism and industrialisation. Modernism hasn't transformed this area and since 1985 it has been protected as a listed area. The area was shaped before Norwegian nationalism succeeded to bring about its icons, symbols, and architecture (late 1800c), and what you still see here today, was inspired eclectically by different European and Scandinavian experiences, contacts, and cultures.

Today we know that we are hosting five different biotopes in this area: three on land and two in the ocean. Measures are to be taken to maintain them.

Our inclination is to go back in time and let us be inspired by how the gardens were back then in the 1800 century – the golden age – so we have already left the best behind and must seek back to it.

It won't become a sculptural park with contemporary art. But contemporary art can be shown temporarily if it follows the main regulations and gets approved by the municipality. The location and its history tell us what kind of management it should have – exercise discretion.

A place can give us security and space can give us freedom: we are attached to the one and long for the other. On Jeløy in the midst of the Oslo fjord, here at Alby Mansion, people have lived for centuries cultivating the spaces. How do students from KHiO in 2022 experience it?

The quick answer to this question: with different modes that each person knows and constructs reality. Just as the range of experiences can be direct and intimate, or it can be indirect and conceptual, mediated with symbols.It's enjoyable to work and be exploratory and suggestive together, rather than to have the last word in an area where our knowledge is tentative at best. The result is a remarkable synthesis which reflects well the subtleties of experience; that surely will endure in our lives and after.

Thanks to Siri Hermansen who through the chaotic experience with Momentum 2021 still lingered on and wanted to collaborate more with Galleri F 15.

Intimate experience of place
Here is a seemingly paradox: thought creates distance and destroys the immediacy of direct experience, yet it is by thoughtful reflection that the elusive moments of the past draw near to us in present reality and gain a measure of permanence.

- I have some questions to you/What questions are we asking?

What connection is there between space awareness and the idea of future time and goal?

What are the links between body postures and personal relationships on the one hand and spatial values and distance relationships on the other?

How do we describe "familiarity", that quality of "at homeness" we feel toward a person or a place?

What kinds of intimate places can be planned, and what cannot – at least, no more than we can plan for deeply human encounters?

Are space and place the environmental equivalents of human need for adventure and safety, openness, and definition?How long does it take to form a lasting attachment to a place?Is the sense of place, a quality of awareness poised between being rooted in place, and being alienated?

- These questions do not make the life of the social scientist and planner easier.

At last: Thanks to the MA students for the importance of your research and art productions.

Thank you for "activating" new places and realms and to increase the burden of awareness.
---
A Site of Possibilities
Dr. Sara R. Yazdani
In her introduction to Ursula K. Le Guin's
The Carrier Bag Theory of Fiction,
Donna Haraway writes that Le Guin's love for storytelling collects "possibilities of recomposing lives and making new sorts of life in hard times."
[1]
The carrier bag theory of evolution explains human progression by defining technology as a carrier bag, similar to a basket, and not as a weapon of domination. By doing so, it intrinsically figures human habitats as composed of entangled histories and situated narratives: dynamic milieus haunted by both the toxicity and wonder of tentacular life forms of our epoch.
Le Guin forges a theory of fiction and machines to be as much a theory of history and human evolution, positing that the analogous image changes with the story: "The trouble is, we've all let ourselves become a part of the killer story, and so we may get finished along with it. Hence it is with certain feeling of urgency that I seek the nature of, subject, of the other story, the untold story."
[2]
Stories are not merely fictional; they produce history and knowledge. They have formed our understanding of our history, human history, whomever that may include and exclude. I find this feminist science fiction theory essential when thinking about habitat and existence because it unfolds a framework for discovering experience and knowledge anew and imagines new possibilities for land and geography that extend beyond the linear narrative of the (white) hero.
Urgent in today's precarious times—I have the war in Ukraine in mind as I write this, a war in which weapons and tools of destruction are sadly and shockingly presented as means for peace, from all sides—this progressive theory is notably probed in the exhibition
Habitat,
a show consisting of six artworks and an installation in Gallery F15 and the surrounding Alby gård. The works seemingly reveal a different history, not yet told or acknowledged as
the
story.
Habitat
aims to envision a new reality, to produce new thoughts and reflections about geological transformations, the past, and habitat in relation to human care and influence. In every attempt, aid is provided to heal and mediate earth's natural environments and to flourish life. It is understood that this healing is bound within the anthropocenic landscape—a result of the colonization and exploitation of the land in the nineteenth and twentieth centuries.
The exhibition portrays both the life and history of the Alby landscape in which sediments have changed due to environmental crisis. The complex processes and research conducted by the artists in turn transform the environment of the plants, power structures, strata, animals, and other organisms of this landscape into something visible that
we
can see and interpret.
It seems as if Alby has become an archeological site in which the artists form a community with the environment that includes our societal institutions, even if only on a fictional level. Through this, the site has been transformed into a material and psychological field lab for creating new ways of being human and new ways of thinking about what is human. It is a site of care for life that seeks, in dialogue with history, the possibilities that might open when the narrative changes. Here, the individual is not concerned with self-creation but with the collective and its relation to animal species and society, beyond the grand narrative, even if only on an imaginative level. This idea of a possibility is central in David Graeber and David Wengrow's
The Dawn of Everything
,
in which they revisit the human history of farming, cities, democracy, and civilization itself and how we make sense of it, precisely to challenge the familiar narrative, the story of humanity.
[3]
Unveiling a new account of how human societies and thought developed over the past 30,000 years, a story they contend is often confined, Graeber and Wengrow hopefully and playfully shed light on the fact that our current ideals of freedom and democracy are not products of Western traditions and the Enlightenment but of Indigenous knowledges with different notions of nature and life.
[4]
With these hopeful possibilities in mind,
Habitat
presents
earth as a soft body, transformative, affected, and always in the process of change. It is an environment, or what Gilbert Simondon called an "associated milieu," of blood, veins, muscles, nerves, soil, grass and a plurality of species and beings of various kinds, living, technical, and mental.
[5]
In
Habitat
the work of art is not fixed or permanent but mediated, in ecological sense of the term. It exists beyond the traditional aesthetic notion of an artwork, beyond the traditional history of humanity, and within a dynamic environment of flows between different types of beings and of life forces.
Public space is here considered as a site, a nurturing home inhabited by rocks, seeds, clouds, and animals, a place where animals, plants, matter, and other organisms live in a community with each other in the making of their shared environment. But to what extend can animals, soil, butterflies, and rocks sense and be affected? Who and what remembers that past and who can retell the story? In
Habitat,
we observe a site of humans––our language, history, and concepts––
and
what is more-than-human, including many kinds of species, organisms, trees, soil, and rocks that speak, heal, discuss, share, farm, and care for each other. Here, sensing emerges between different species and organisms, acting as environmental subjects, what Jennifer Gabrys describes in her research on sensing lichens as worldmaking entities forging kin and milieus, not on their own, however, but in collaboration with humans and non-humans.
[6]
To understand their sensitivity in ecological terms is to glimpse the environment as a site of sharing and a site of hope. It is about accounting for and digging deeper into the ambiguous presence and past of the unseen and untold.
---
[1]
Donna Haraway, "Introduction: Receiving Three Mochilas in Colombia: carrier Bags for Staying with the Trouble Together," in Ursula Le Guin,
The Carrier Bag Theory of Fiction
(London: Ignota Books, 2019), 20.
The Carrier Bag Theory of Fiction
was originally published in
Woman of Vision
in 1989.
[2]
Ibid., 33.
[3]
David Graeber and David Wengrow,
The Dawn of Everything. A New History of Humanity
(New York: Farrar, Strauss and Giroux, 2021).
[4]
Ibid., 1–27.
[5]
Gilbert Simondon,
REF
[6]
Jennifer Gabrys, "Sensing Lichens From Ecological Microcosms to Environmental Subjects
," Third Text
18, nos. 2–3 (2018): 350–67.

All images: Eivind Lauritzen/Galleri F 15



Amina Baker Shubar
Pink Cloud

2022




Amina Baker Shubar uses clay as a medium to express her interest in survival mechanism strategies and environmental challenges, through sculptures taking different shapes and colours. Her sculptures interact with each other, whilst also interacting with the medium of sound. Her soundtracks discuss such topics as weather, climate change, animals and escape, combined with her own history and background as well as the sounds of endangered species. The soundtracks are emitted from within the sculptures.

For Baker Shubar the Pink Cloud is a symbol of survival strategy. Pink colours in the sky on a cold sunny winter day can compensate for grey, sad days throughout the winter. After a sunny day, people gather and take pictures of these clouds, and post them on Instagram. They may not think about much other than the joy it gives them, there and then. At the same time these pink clouds can be a sign of the Anthropocene, man-made environmental emissions, pollution, the reminder of mass production and new capitalism, these pink colour palettes symbolize joy, hope, and survival.


Amina Baker Shubar (b. 1988) is a visual artist and illustrator. In her practice, Amina is keen to research at meeting points between knowledge, power and culture. How power and culture affect nature and our society on different levels. Baker Shubar works mostly with sculpture, photography, drawing and installations. Baker Shubar is currently undertaking the last year in her MFA in Art and Public Space at the Oslo National Academy of the Arts.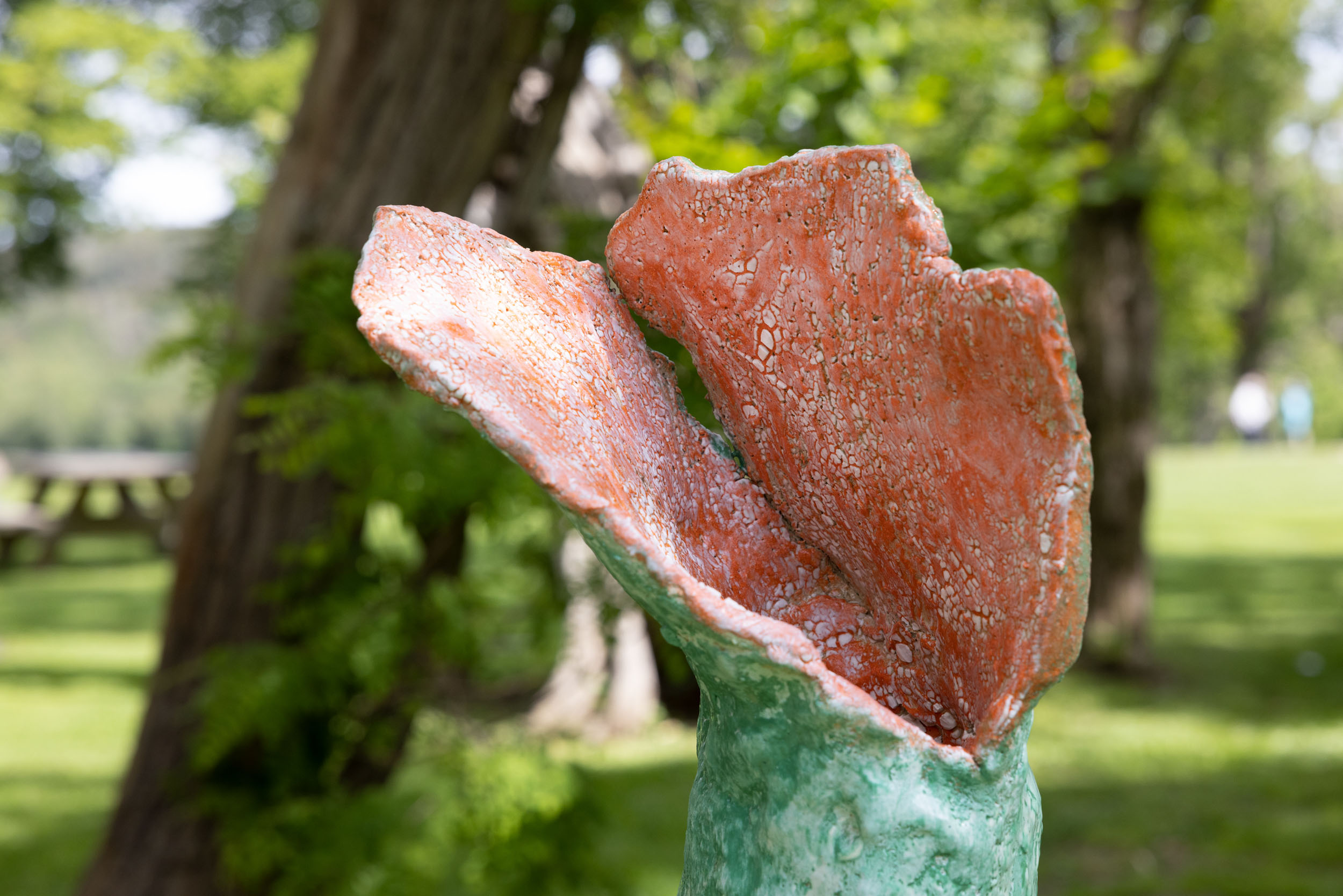 All images: Eivind Lauritzen/Galleri F 15



Jad El Khoury
Healing Blanket – A platform for serendipities
2022



After having used outdoors textile to reactivate and heal accidental war monuments in Beirut, these curtains will appear again in a humbler approach, as a socially engaged, participatory work. This iteration of the curtain's appearance will invite visitors to go beyond merely observing a curtain hanging in an empty window of an unreachable, abandoned building. Here, the curtain transforms into a picnic blanket placed on the ground, waiting for Galleri F15's visitors to use. A movable platform of serendipities, to be inaugurated outside in the Baroque Garden in front of the gallery.

For El Khoury, the Healing Blanket comes with a sense of urgency, after coming to the realization that trauma and depression are not conditions exclusive to war-torn countries. The Healing Blanket is an antidote to the white circles in the parks reminding us to remain socially distant during covid, with a scale large enough for different groups to simultaneously share in its multi-patterned space. Placing an emphasis on healing, the blanket will also be activated via an offering of yoga, meditation, and a curated library of self-healing books.

The fabric is weather resistant and will remain outside for the duration of the exhibition. However, the power of the material here lies not in its physicality, but in its relation to how it has been historically used to bring poetry and healing to ruins around the world; it is in the dancing and blessings it has been generating to different cities.


In El Khoury's practice, ecological sensitivity, politics, architecture, memory-work, and heritage come together in pursuit of healing. The medium and techniques are constantly metamorphosing in response to the serendipities and contexts he encounters. Always with a sense of urgency and site-specificity, his projects vary from static visual installations to socially engaged practices.

After studying architecture at the Lebanese University and installing public art works around the world, he has been pursuing an MFA in Art and Public Space at the Oslo National Academy of Arts, culminating in the spring of 2022.

www.jadelkhourymaps.cargo@jadelkhoury.art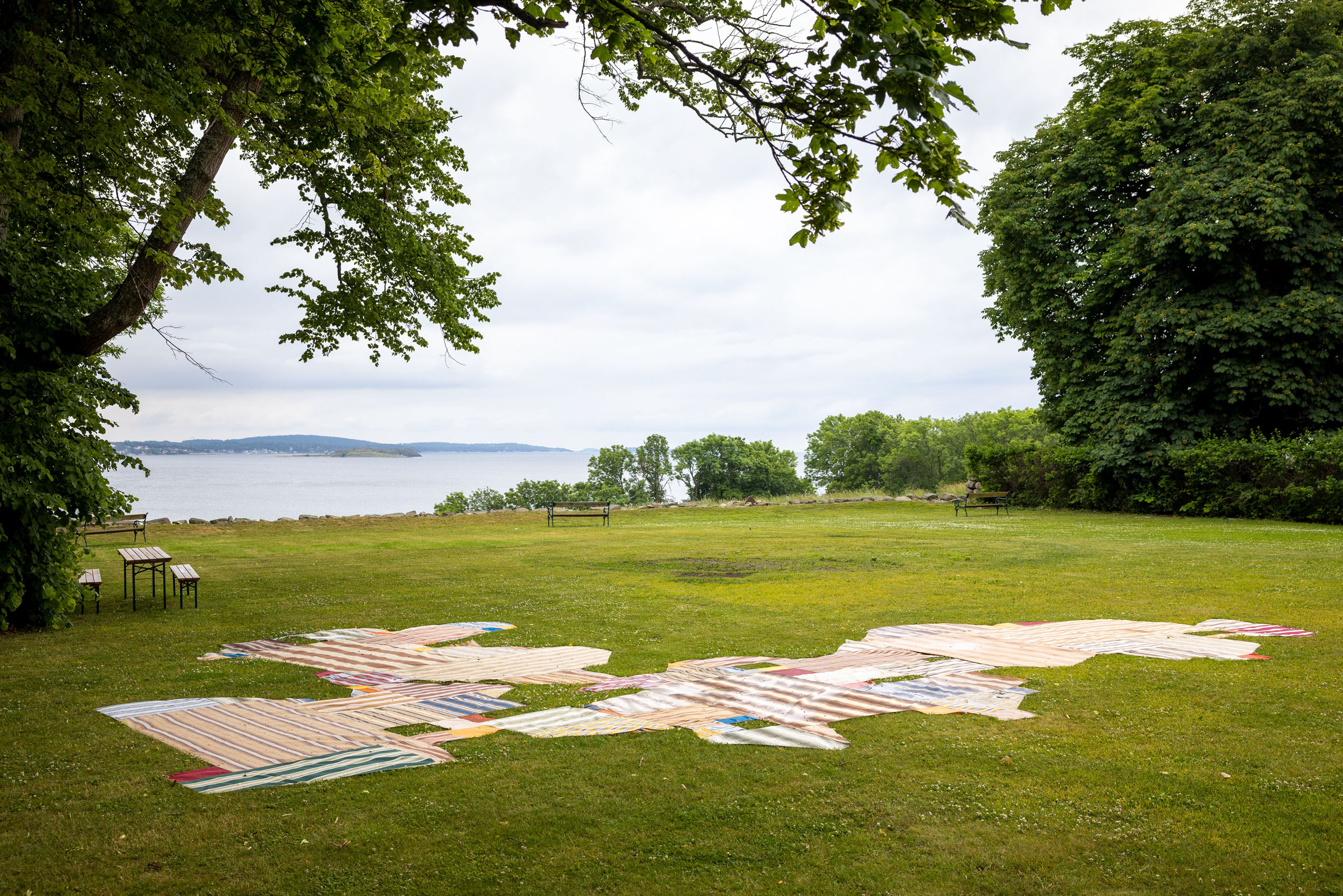 All images: Eivind Lauritzen/Galleri F 15



Sarah S.
Nældens takvinge, fjerde forsøg på Galleri F15 (vi hænger i det samme spind). Aglais Urticae, Fourth Meeting at Galleri F15 (We are Hanging in the Same Web).
2022
28 May–18 June




The project Aglais Urticae works to find ways, opportunities and hope in the charged field between humans and the species that live around them. The butterfly species 'small tortoiseshell' is one of the hardy species that lives very close to people; they live in our gardens and overwinter in our houses with us. It knows us and all the little nooks and forgotten nettle beds we leave behind, but most people do not know it. The project raises a series of questions. How do you really know a butterfly? Can one talk to it? Can one learn their language? And when do you go too far?

From the beginning of May to mid-June, S.' will be present in the Nature House at Alby, co-living with the butterfly larvae which will undergo the metamorphosis into butterflies. A process full of silent mysteries and the possibility of becoming wiser about a species we are already close to. So come on in, have a cup of nettle tea and a chat with the artist or the butterfly caterpillars. Maybe getting to know each other is the way to a more sustainable way of living together?

Aglais Urticae is a project that is repeated annually in different contexts. The project's first manifestation as an art project will take place in May – June 2022 at Galleri F15. This manifestation of the project is named Aglais Urticae, Fourth Meeting at Galleri F15 (We are Hanging in the Same Web).


S.' works in sculpture and installation, with a special interest in the processual formation of kinship and coexistence with other species. Her works are based on interaction with specific places. Through her current work with selected sites, she explores, often through animal and plant networks, overlooked narratives and how she can facilitate a broader understanding of who is important to the course of history.

Her works have recently been shown at Hordaland Art Centre and Nitja Centre for Contemporary Art. In 2021, she received The Relief Fund for Visual Artists art student scholarship. In addition, she is the founder and curator of the exhibition platform and the artist network

Vandrestaven Udstillingspunkt

.

www.sarah-s.space@sarah.sikorie





All images: Eivind Lauritzen/Galleri F 15


Sarah Sekles
Animal Conference
2022




In a field by Alby Manor House near Moss, a young and delicate oak tree is doing the job of remembering the death of a monumental 500-year-old oak tree, that was cut down by the German occupiers during World War II, to make room for artillery.

Animal Conference makes room for nature's own discourse, leaving humans with the sole task of quietly listening. A circular stage is constructed by soil, seeds, water, and light with the wise presence of the young oak tree in its centre. Here birds, bees, worms, and wild animals interrelate and present their opinions. The stage will be accompanied by a guided walk around the field, in a separate area designated for the human audience. Visuals, text descriptions and audio stories told by the local community will also be part of the project, kept at a necessary distance. To emphasise respect and the will of balancing power, providing the opportunity for concentrated contemplation and reflection is key.

Animal Conference is process and performance at the same time. The project will constantly be changing with the slow natural growth, the time of the day, weather, and the unpredictable agenda of nature, as the type and number of non-human actors, animal or plant will change. The course of the process is a dynamic script written by the performers and the passivity by the human audience is important. The artist merely starts the project, letting the rest evolve by itself.

By emphasising slowness and simplicity, Animal Conference aims to create a marvelling that would result in a form of understanding. With the focus on nothing less spectacular than watching plants grow, developing into a magical oasis, while observing and imagining a silent conversation between the present non-humans, animals, without taking an active nor centred role.


Sarah Sekles is a German-Brazilian aspiring artist, with a background in product design. Her artistic and scholarly practice is an ever-evolving, research based and site-specific mixture, that seeks to understand the potentialities of art and their social applications. Her process consists of personal memories and the connection to her origin and heritage, focusing on historical happenings and made tangible through different materials and mediums, whilst imagining spaces as resources and starting points of her artistic work. Sekles is currently pursuing an MFA in Art and Public Space at the Oslo National University of Arts. In the past she has worked as an artist assistant as well as a freelance designer on several commissioned projects.

@sarah_sekles@sarah.sekles